Reading Time:
3
minutes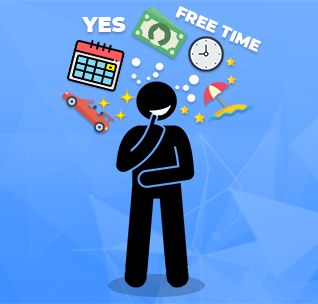 What does your dream life look like? For many people, their ideal life is one in which they have the freedom to make their own business decisions, and one where they can work wherever and whenever they want.
The gig economy is a life hack that offers the opportunity to make your dreams a reality. It can improve your life in numerous ways, and we founded WRK to help more people become a part of the gig economy.
Freedom to Make Your Own Decisions
When you are part of the gig economy, you have the power to control your own fate. If you don't want to take a certain job, no one will make you. If you are unhappy with a client, you can stop working with them.
As an independent worker, you have the power to make your own decisions, and you can put the days of being reliant on other people behind you. You control all of your business decisions, both good ones and bad ones. When you achieve success, it will be one of the most rewarding things you have ever done.
WRK is a great place to start on your path to freedom. There are plenty of people who are seeking help from independent workers that you can use to start building your client base.
Be Location Independent
One of the best parts about working in the gig economy is that you can be location independent. When you part ways with a brick and mortar workplace, the entire world becomes your office space.

If you want to spend one week in Vegas, and the next week in LA, you can do it as a gig worker. You have the freedom to explore new places and earn money from wherever you want.
WRK can help you find work opportunities no matter where you are. All you need is your smartphone to access the WRK community since WRK is fully responsive. When work providers post work offers, the offer is sent to all workers within a 35-mile radius. Thus, as long as you have internet access, you can travel across the country and earn money with WRK.
Side Hustle
Even if you love your full-time job, and you don't want to leave, the gig economy still has something to offer you. The gig economy offers numerous opportunities that you can use to maintain a side hustle.
Side hustles enable you to make some extra cash and use it for whatever you want. You can use your side hustle to help pay for a vacation or to save up money for that new TV you've been dreaming about.
WRK enables you to work as little or as much as you want. If you want, you can even take on one WRK job a week and have some extra spending money for the weekend.
Maintain Financial Stability
Sometimes, it's hard to keep your head above water. Life can knock you down, and oftentimes, your full-time job isn't enough to cover your day to day expenses.
However, the gig economy can give you the extra help you need to make ends meet. Completing gigs is an excellent way to supplement your main source of income, and they can give you the extra boost you need in life.
WRK enables professionals to easily make profiles and start connecting with people who want to hire them. We're here to help you quickly start making more money, and it's possible to make a profile and start getting jobs within a few days.
One of the best things about the gig economy is that it can benefit people in a variety of different ways. There are people who complete gigs as their main source of income and also people who use them to supplement their income.
WRK improves people's lives by enabling them to take advantage of the gig economy. If you haven't started using the gig economy as a life hack, I invite you to begin by becoming a worker on WRK.